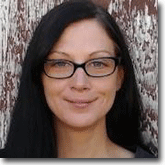 Melissa Cain ~ Western Watersheds Project's Bighorn Conservation Director. Melissa hails from Iowa, but has been living, learning, working, and exploring throughout the Northwest for more than 10 years. She holds a degree in Earth Sciences from Oregon State University, where she focused on Land and Water Systems and GIS. She has experience surveying habitat quality and species occupancy of salmon in Oregon, sage grouse in Idaho, and wolverines, lynx, fisher, and marten in Montana, and she has worked on data management projects related to Montana's fisheries and native lichens. She brings to the position a passion for wild landscapes and the creatures that call them home.
Melissa previously worked for several state and federal agencies, including the BLM in Idaho and the Fisheries Division of Montana Fish, Wildlife and Parks. She also participated in projects for the Coos Watershed Association, Montana Wilderness Association, and the National Phenology Network, and assessed landscapes from the Pacific coast to the Continental Divide.
Melissa enjoys backpacking, kayaking, reading, travelling, and snowboarding. She is interested in GIS and remote sensing technology, space weather, climate science, groundwater management, and alternative futures modelling. She is an advocate of dark skies, open data, local products, and sustainable design, and of thriving public lands free from the detrimental effects of grazing.