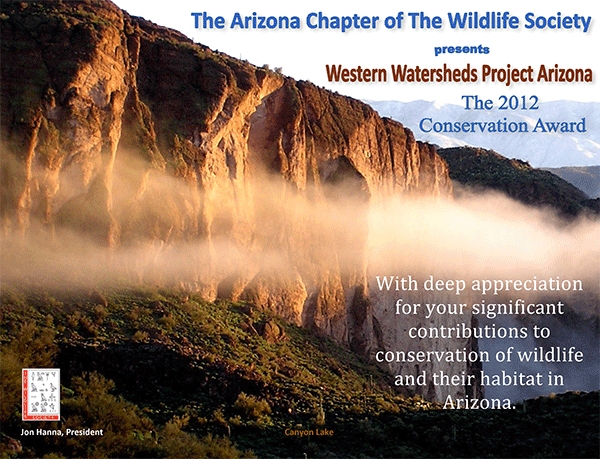 Southern Arizona is no place for cows. The saguaro forests, dry washes, sporadic rainfall, and high temperatures make the environment inhospitable for livestock, but that hasn't stopped any livestock operators from trying.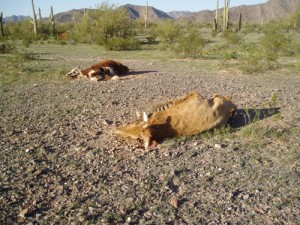 Western Watersheds expanded into Arizona in the spring of 2007, in order to ensure that unsustainable grazing in the hot deserts, and on the desert National Monuments, ceases to threaten species, ruin soils, and denude the landscape.
Arizona is not dissimilar from other western states that have been propping up a dying industry with funding. We are looking at ways to protest this mis-use of taxpayer money, especially in site-specific areas where drought-related "hardship" payments are being used to incentive returning cattle to public lands.
Instead of paying ranchers to find ways to put cows back on dry public lands, we're teaming up with the National Public Lands Grazing Campaign to pursue voluntary relinquishment opportunities, areas so marginal for grazing that many operations consist of paper cows only. We believe the voluntary permit buy-out could be a win-win solution, especially on national monuments.
Because the lands of Arizona are just too fragile to sustain grazing, and because many of the imperiled species in the Sonoran Desert are directly and indirectly harmed by livestock grazing, we have high hopes that a little bit of pressure will bring a lot of change.
Feel free to get in touch with us if you have any questions
Cyndi Tuell
Arizona and New Mexico Director
Western Watersheds Project
738 N 5th Ave, Suite 206
Tucson, Arizona 85705
(520)272-2454
Email