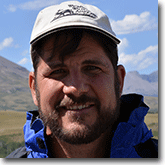 Erik Molvar ~  Western Watersheds Project's Executive Director.
Erik cut his teeth in conservation in the field, doing more than half a million acres of wilderness inventory in Wyoming's Red Desert and Medicine Bow Mountains. This led to a leadership position fighting oil and gas projects in Wyoming during the Bush administration. His signature accomplishment is defeating the 1,240-well Seminoe Road Coalbed Methane Project during that time. He wrote comprehensive, science-based conservation alternatives for federal land-use plans involving lands in the Red Desert, the Bighorn Basin, and the Medicine Bow National Forest. He spent 13 years as a conservation advocate and later Executive Director of Wyoming-based Biodiversity Conservation Alliance, and led WildEarth Guardians' Sagebrush Sea Campaign for three years. Over this period, he became a national leader in sage grouse conservation and recovery.
Molvar is a wildlife biologist with published research in the behavior, ecology, and population dynamics of Alaskan moose as well as large-scale conservation planning. His scientific research helped establish that predation risk led to the evolution of herd-forming behavior in Alaskan moose, and he also helped to elucidate the role that moose play in accelerating nutrient cycling in timberline areas of Denali National Park. He has also worked on Forest Service stream survey crews and as a biological technician for the Corps of Engineers barging juvenile salmon and steelhead down the Snake and Columbia Rivers.
Prior to becoming a professional conservation advocate, Molvar traveled the West as a hiking guide author. He is the author of 16 hiking guidebooks and backpacking techniques manuals for national parks and wilderness areas spanning the West from Alaska to Arizona, including Hiking Glacier and Waterton Lakes National Parks, Hiking Zion and Bryce Canyon National Parks, and Alaska on Foot: Wilderness Techniques for the Far North. He also was managing editor for Wyoming's Red Desert: A Photographic Journey, was a managing editor for the official interagency commemorative book for the 50th Anniversary of the Wilderness Act, and has contributed writing and professional photography to a number of other books, both nonfiction and literature.  Erik is a contributor to The Hill and his columns in that newspaper can be found here.