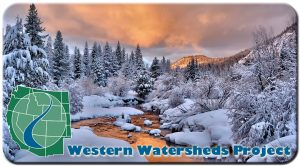 Photo Courtesy Flickr Creative Commons.
December 27, 2019
Western Watersheds Project is well-known as a hard-hitting conservation group that scores big wins for wildlife and public lands throughout the West. We're also a hard-working crew of just fourteen staff, and we rely on membership dollars and donations to keep our team running. Thus, in this final email from WWP in 2019, we're asking you to consider a generous year-end donation to keep us thriving into 2020, because we have so many great things to keep doing!
For example, in Idaho, we're still fighting Wildlife Services over how they manage wolves, and we're in court trying to stop the reauthorization of grazing on the U.S. Sheep Experiment Station.
In Wyoming, we're actively trying to stop the Normally Pressured Lance Project, an enormous gas drilling project that would fragment sage-grouse habitat and obstruct the Path of the Pronghorn migration. And we're looking closely at the Upper Green River grazing decision that came out this fall, projected to result in the killing of 72 grizzly bears over 10 years at the behest of the livestock industry.
In Montana, we're engaged in litigation against the Flathead National Forest Plan, to strengthen weak protections for grizzlies and their habitats.
In Utah, we are in court to challenge cattle impacts on Capitol Reef National Park and over the U.S. Forest Service giving in to scofflaw ranchers on Monroe Mountain. We also continue to track livestock effects on the world's largest living organism, the Pando Clone of aspens.
In Arizona, we've got a legal case pending against the Bureau of Land Management resuscitating zombie grazing permits and we're taking a hard look at agency plans to extend cattle impacts on the San Pedro National Riparian Conservation Area. We're also fighting for Endangered Species Act protection for the Sonoran desert tortoise.
In New Mexico, we're pressing the USFS to remove cows from the Canyon del Buey allotment, where the rancher had his permit revoked for killing a Mexican gray wolf.
In Colorado, we're suing to protect bighorn sheep from the diseases spread by domestic livestock on the Rio Grande National Forest.  We're also actively seeking to improve management for Gunnison sage-grouse on Colorado's public lands.
In Nevada, we continue to watchdog Lahontan cutthroat trout habitat on grazing allotments and seek the same kinds of protections we achieved last summer throughout its range.
In California, we're hard at work to ensure space for tule elk by reducing and removing private grazing operations on Point Reyes National Seashore through the General Management Plan. We're also intervenors on behalf of the Bi-State sage-grouse to defend restrictions on motocross contests in sensitive habitats.
In Washington, we're continuing to advocate for wild wolves and demand that problem allotments are addressed rather than permitting lethal actions against native wildlife. (We're also hiring a new Washington/Montana Director ~ Stay tuned!)
And in Oregon, we're still in court fighting to protect Oregon spotted frogs and fens from livestock damage on the Fremont-Winema National Forest. Our recent victory against the BLM reissuing the Hammond Ranches grazing permit was a big win, but our work isn't done. We need to hold BLM accountable for keeping the allotments closed and accurately considering the impacts of grazing on the redband trout streams and sage-grouse habitat.
Finally, WWP is at the forefront of environmental litigation of national importance. We've still got west-wide litigation against the sage-grouse land use plan amendments on 106 million acres of BLM and Forest Service lands, as well as our case on oil and gas development in sage-grouse habitat that has enjoined the Trump Administration's plans since September 2018. Our lawsuit to restore Bears Ears and Grand Staircase-Escalante National Monuments to their former glory is making strong headway. And we're still fighting in court to defend our victory returning grizzly bears to the Endangered Species List.
If you're impressed with this list, we hope you'll support us.
With your help, we'll be able to continue all of these projects (and the dozens we didn't list here), to spread the word through media and outreach, to study resource conditions on public lands throughout the west, and to advocate for important policy changes in D.C.. We'll continue to work hard towards limiting the impacts of private grazing on public lands in 2020.
You can give online or through the mail, and we'll send you a receipt of your tax-deductible donation and the gratitude of our staff and board.
Thank you and Happy New Year!