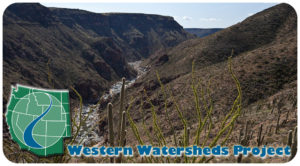 The Agua Fria National Monument near Phoenix, Arizona is renowned for its richarcheological history and the extraordinary biodiversity it contains. Native fish species, including longfin dace, the Gila mountain sucker, the Gila chub, and the speckled dace occur in the precious riparian habitats that the designation protects.
Unfortunately, the Bureau of Land Management only sees these waters as a resource for livestock, and the Horseshoe Ranch grazing decision issued last June would have added nearly twenty miles of water pipeline, new wells, tanks and troughs, and would drain up to 200,000 gallons of water from nearby riparian areas to benefit the livestock industry.The project would also have authorized the use of six different herbicides and allowed the use of livestock as "biological control agents," all within the habitat for the imperiled Gila chub, yellow billed-cuckoo, and the northern Mexican garter snake.
This week, Western Watersheds Project successfully "stayed" that decision as part of an appeal of the project. The judge recognized the immediate and irreparable harm this project would have on the wildlife, the native plants, and the seventeen miles of riparian areas found on the allotment. The BLM itself admitted the proposed range projects would drain the watershed and draw livestock to areas that hadn't been grazed in years, resulting in extensive trampling of vegetation wildlife rely on for survival, but then ignored those impacts in its decision. The new decision means that the projects can't go forward until the appeal is resolved, but we're optimistic that the agency will pull the decision altogether and go back to the drawing board.
The Administrative Law Judge's decision can be found online.