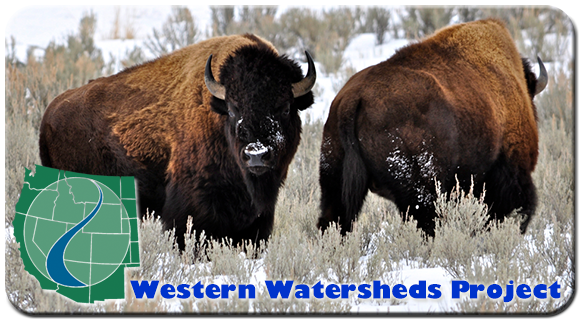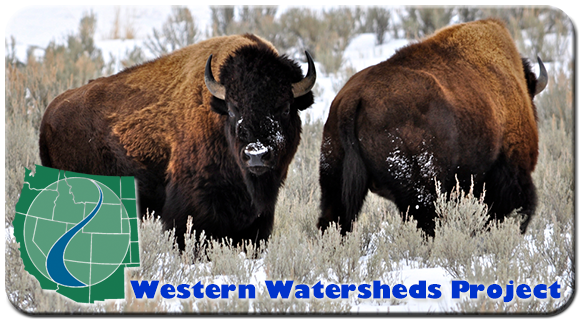 February 1, 2018
Online Messenger #364
In a fantastic victory, a federal judge ruled yesterday that the U.S. Fish and Wildlife Service illegally denied Endangered Species Act protections for the Yellowstone bison population. The ruling overturns the Service's negative 90-day finding which had concluded that there was not substantial information supporting the need to protect the bison in the listing petition written by WWP and then submitted in November 2014 by Western Watersheds Project and our close allies at Buffalo Field Campaign.
By overturning the negative 90-day finding, the court sent the rule back to the Service to revise and use the science that supports providing protections for the dwindling bison herds. Previously, the Service ignored relevant scientific research and only relied upon studies that advanced the agriculture industry's agenda to limit bison migration and minimize bison populations.
Despite the bison's status as the National Mammal (designated in 2016), the state and federal agencies have been killing bison in and around Yellowstone National Park to reduce the transmission risk of brucellosis – a disease brought to the region by livestock and never know to have passed from bison to cattle, but nonetheless used as a reason to maintain the livestock operators' control over regional public lands.
We're thrilled to put bison back in queue for listing under the Endangered Species Act. It's a first step forward in a long battle for truly affording this magnificent animal the full protection it needs to survive, thrive, and expand.
Thanks due to Friends of Animals for helping to represent us in the litigation. It was a "herd effort" and we look forward to working together again to secure full protections for this remnant population of Plains bison.
A copy of the court order can be found here.