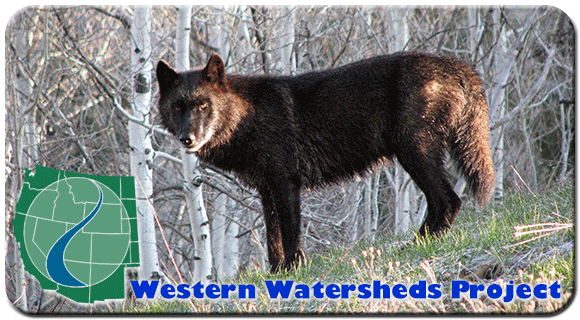 November 1, 2017
Online Messenger #361
Western Watersheds Project and our allies (represented by the Center for Biological Diversity) are proud to announce that we've reached an agreement with Wildlife Services that requires an updated Environmental Impact Statement (EIS) which analyzes the effects of its wildlife killing programs in sixteen counties in northern California, and limits the use of cruel trapping and killing devices in the meantime. This is good news for wildlife, including the recovering wolf population in the region!
This agreement is especially important for wolves because they are just starting to return to native habitats in northern California, and the government has agreed to take extra precautions in the region so as not to accidentally kill or injure them.
The settlement agreement applies to California's "North District," which includes Butte, Del Norte, Glenn, Humboldt, Lassen, Mendocino, Modoc, Nevada, Plumas, Shasta, Sierra, Siskiyou, Sutter, Tehama, Trinity and Yuba counties.
Pending the completion of new EIS, Wildlife Services won't be able to use poisons targeting mammals (including M-44 cyanide bombs and den fumigants) or lead ammunition anywhere in the region. It will also be prohibited from using body-gripping traps and aerial gunning in Wilderness or Wilderness Study Areas. Because these wildlife killing methods are often employed at the behest of the agriculture industry on public lands, today's agreement also means that wildlife can be a little more wild and not suffer needlessly from the inhumane methods Wildlife Services usually uses.
The forthcoming environmental analysis will be subject to public comment and review, so WWP and our members will be sure to fill the record with the best available science supporting the importance of predators and the harms of lethal wildlife management on public lands. The new plan will be a much needed update on antiquated ideas about killing predators for the livestock industry and giving wildlife fair treatment in their habitats.
Congratulations also to our co-plaintiffs Center for Biological Diversity, Animal Legal Defense Fund, Project Coyote, Animal Welfare Institute, and WildEarth Guardians. Thanks!