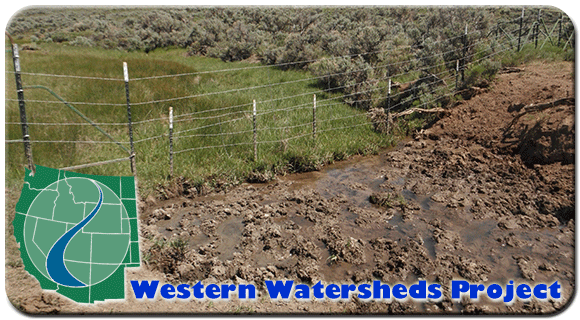 July 28, 2015
Online Messenger #316
In a strongly-worded admonishment to the Idaho State Legislature, Judge B. Lynn Winmill struck down the so-called "Ag-Gag" Law passed by the state last year. Finding that the new law violates the First Amendment and rights to equal protection, the court overturned the law that sought to criminalize whistle-blowers and undercover investigators who exposed animal abuses at Idaho's agricultural facilities.
Western Watersheds Project and our allies (including Animal Legal Defense Fund, People for the Ethical Treatment of Animals, American Civil Liberties Union, and others) brought this suit shortly after Governor "Butch" Otter signed the bad legislation into law last year. Testimony on the bill and court filings demonstrated that its intent was to punish certain types of speech and prevent the exposure of mistreatment of animals. WWP got involved because the Idaho law was crafted in such a way that even our work on public lands livestock operations could have been criminally prosecuted. The Judge saw through to the nefarious intentions behind the law and ruled to protect free speech in Idaho.
It's a fantastic victory at a time when WWP and others are fighting similar laws and intentions all over the West. Thanks very much to the attorneys on the case, Matthew Liebman of Animal Legal Defense Fund, Leslie Brueckner of Public Justice, Justin Marceau of the University of Denver Sturm College of Law, and the law firm of Maria E. Andrade for this important win!