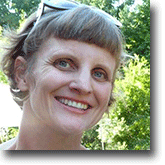 Greta Anderson, Western Watersheds Project's Deputy Director.  Greta's experiences ranged from working as a conservation advocate for environmental non-profit organizations, to serving as a field contract botanist for the U.S. Fish and Wildlife Service and the National Park Service. She is an author of numerous reports and publications on the impact of livestock grazing, riparian restoration and rare plants in both the United States and Mexico.
Greta serves as Conservation Chair for the Tucson Chapter of the Arizona Native Plant Society and is a committee member of the National Public Lands Grazing Campaign and a member of the Sierra Club National Public Lands Grazing Committee.
She has an M.A. in geography from the University of Arizona and a Water Policy Certificate from the same institution. She has a B.A. in environmental studies from Prescott College, and a certification of clinical herbalism from the Southwest School of Botanical Medicine.
She lives in Tucson and is an enthusiastic bicyclist, raises chickens, and loves to cook with her solar oven.